Many years ago, I felt God calling me to launch a ministry only to have it die less than two years later. That was a confusing and painful season where I questioned my ability to hear God. For surely, if the call came from Him, He would've kept it–and me–from failing.
For a while, that experience left me jaded. Whenever I sensed a divine nudge to do anything that carried a hint of risk, I shut it down, certain my efforts would only end in defeat and discouragement. Thankfully, our God is equally gentle and persistent. He knows we'll never experience the depth of life He's promised living in hiding or distracted by our world's incessant noise. And so, bit by bit, He nudged me forward, revealing His will and drawing me closer to Himself.
With each step, my vision became a little clear, and I began to view my world–present and past–through His truth. In this, He helped me see a major cause of my previous failure-I had attempted to serve Him alone. While revealing His heart for interdependent living, He connected me with others heading in the same direction. He invited us to link arms, and thus, Wholly Loved Ministries was born.
Honestly, serving with others hasn't always been easy. My rough edges have rubbed against theirs, and vice versa. We've had disagreements, and challenged one another's insecurities on more than one occasion. But we've also supported, encouraged, laughed with, and prayed for one another. Together, we and the ministry have experienced incredible growth and a sharpened focus. Our temporary disagreements over nonessentials have clarified and strengthened our commitment to those things that define us and our mission.
I believe, had we pulled away during times of conflict, the opposite would have occurred. I fear, feeding the pride that demands to prove oneself right would've driven us to remain staunchly committed to secondary beliefs and convictions, marring the beautiful mosaic God was creating before He'd laid a quarter of the tiles.
This extends far beyond the ministry unfolding within church walls to every opportunity we embrace and encounter. According to Scripture, our ministry includes every area of our lives, from making school lunches, attending work meetings, and waiting in line at the grocery store. This means, we cannot live fully as God desires or accomplish all He's assigned without asking for help. However, doing so will require a great deal of courage, humility, and strength.
Courage in refusing one of our culture's most pervasive–and defeating–lies that true strength is revealed through independence.
Humility in admitting that we're incapable of pursuing our call alone. That we are, in essence, needy, and humility in making our needs known.
Strength to stand against the sin that separates and isolates and to pick up the phone, send that email, or cross the street, to forsake the masks that hide our insufficiencies beneath our polished veneers, look our brothers and sisters in the eye, to seek a shoulder and a hand while offering the same to them.
And if we don't? If we remain in our self-protected and self-deceived independent states? Not only will that hinder all God wants to do in and through us, but we'll hinder someone else's ministry and growth as well. In short, we become roadblocks rather than stepping stones and bridges. Roadblocks to those God might otherwise call to come alongside us, but also to those, like our spouses or children, we inevitably force to help carry our burden or short change in our effort to do so alone.
Consider this poem, written by Susan Aken, a precious and talented woman with whom I've had the privilege of linking arms:
Overflowing
My cup is full.
It overflows!
Brimming over with
Love,
Encouragement,
Inspiration,
Hope,
Peace,
Corrected perceptions.

God's love
Washes over me,
Embraces me,
Gives me vision.

I see I'm not alone.
I'm meant to lock arms with my sisters in Christ.
We serve together.
We're all part of the same picture.
We need each other.

No more listening to the lie:
"You can do this alone."
We are one voice.
A body where each part is necessary.
Each beautiful and unique.

Father, help me embrace
the place You have for me and to shine.
Help me support the sisters
you've surrounded me with
and encourage them
as they also shine for You.

You're the center.
You're the head.
You're the reason we're here.

Be glorified.
Fulfill Your purpose in each one.
Connect with Susan through her website.
Before you go, make sure to check out the latest Faith Over Fear podcast episode where I chat with author Jennifer Tucker, author of Breath as Prayer: Calm Your Anxiety, Focus Your Mind, and Renew Your Soul.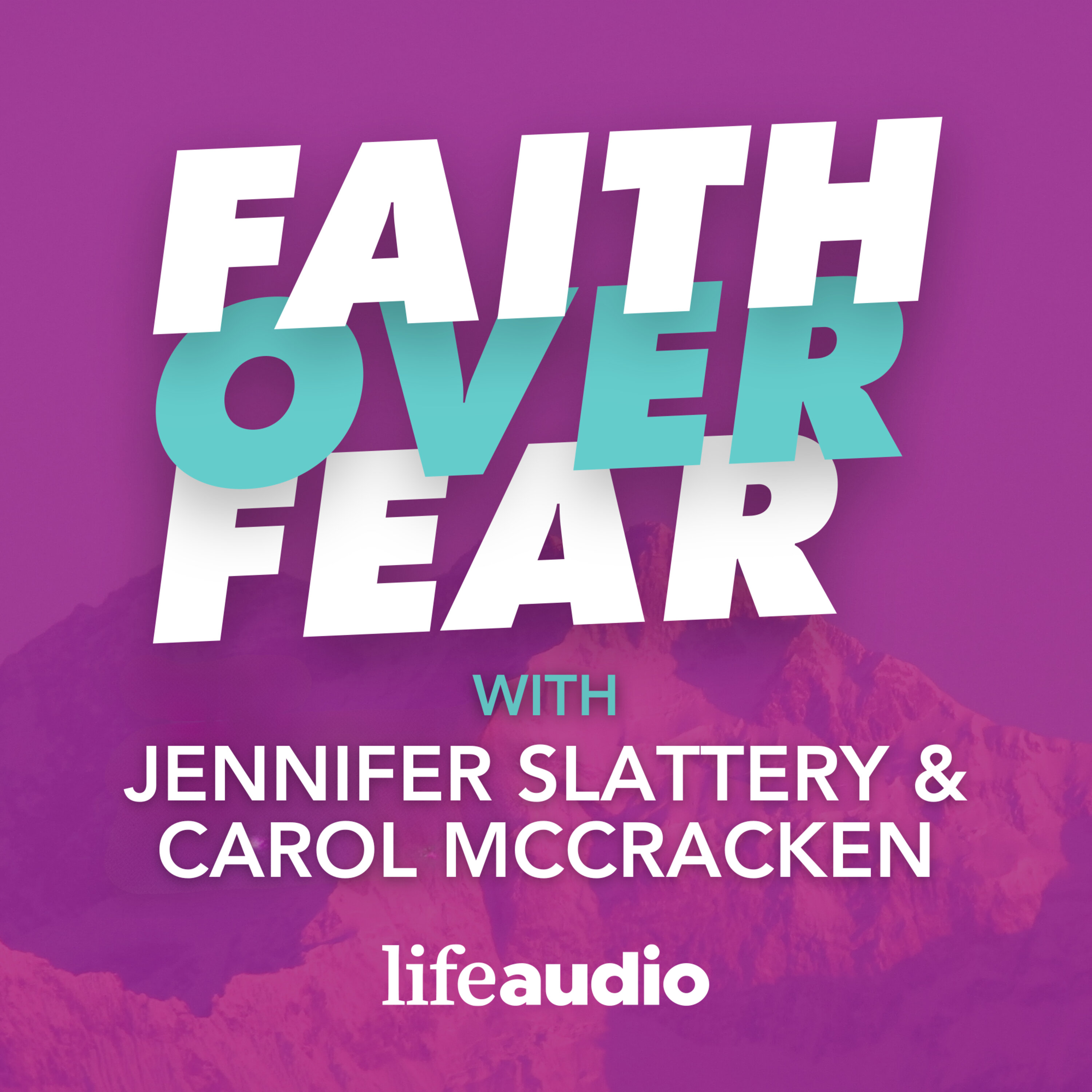 Break the Grip of Anxiety & Worry: What You Can Do to Stop Stress | Breathe
–
Faith Over Fear
What type of mindset makes us vulnerable to chronic stress, anxiety & depression? When you are stressed, what automatic coping mechanisms have you adopted that don't help, but diminish your wellness?  What holds you back from getting the rest that you need when you're stressed?   In this episode from Breathe: The Stress Less Podcast (another free show from LifeAudio), soul care coach Bonnie shares how to ditch mindsets that keep you stuck in anxiety, worry, and stress and what you can do to stop the stress, when you need it most. This episode will help you let go of unhealthy thinking patterns and replace them with a healthy biblical mindset to create a new rhythm to stop the stress cycle.   DISCOVER MORE EPISODES OF BREATHE: THE STRESS LESS PODCAST FROM BONNIE GRAY: Is Self-Care or Soul-Care Selfish or Unspiritual? –
https://apple.co/40lhHxb
/
https://spoti.fi/3FIg305 
How to Stop Numbing Your Emotions & Stop Negative Self-Talk with Jesus –
https://apple.co/405mcvz
/
https://spoti.fi/3Z2b0hP 
Feeling Anxious? Cast Your Cares on God Because He Cares For You –
https://apple.co/3FHsQA5
/
https://spoti.fi/3ZWQb8R 
  LINKS & RESOURCES: Take the Soul Care Quiz at soulcarequiz.com – your FREE personal wellness assessment – to learn which areas of wellness you're missing most to flourish with God's peace and joy in your life. Grab Bonnie's new book to lower stress, Breathe: 21 Ways to Stress Less & Transform Chaos to Calm Join the FREE Breathe Wellness Book Club to tackle for areas of wellbeing: emotional, physical, spiritual, and social wellness at
http://thebonniegray.com/breathe
. Get 4 LIVE sessions + community support! Want scientific articles mentioned in today's show? Sign up for the FREE Breathe newsletter
https://thebonniegray.com/subscribe/
Get Bonnie's FREE 7 Prayers & Scriptures to Calm Anxiety here!   FOLLOW BONNIE: Instagram: https://instagram.com/thebonniegray Facebook:
https://facebook.com/thebonniegray
Website:
http://www.thebonniegray.com
See omnystudio.com/listener for privacy information.