I've learned, in my ongoing fight against fear, I won't experience the peace of Christ in my own strength.  I can't take my anxious, and often snowballing, thoughts captive (2 Cor. 10:5) without supernatural help. But I've also learned, I can live in the victory of Christ, during my most hectic and uncertain moments included, if I'll actively and consistently pursue Him. When my world feels chaotic and like I'm being whipped about in a never-ending cyclone, I prayed for reprieve, yes, but even more so, I prayed against the storm raging within me. That was when I began taking my greatest steps toward freedom. 
As some of you know, 2011 was an incredibly rough year for me, for so many reasons. We'd recently moved, which meant saying goodbye to some close friends, uprooting ourselves from faith communities, grieving the loss of both while battling loneliness. That was also the year I got sick with what was, initially, an unknown illness. This triggered my anxiety, my anxiety fed my desire for control, and that desire led to an obsession with myself, my illness, and germs. The worse I felt, the more I cleaned.
Soon, one thought dominated my thinking: what was or wasn't making me sick. Bit by bit, one handwashing at a time, germaphobia developed. Eventually, I became completely enslaved to my fear. But then one day, as I was walking to the laundry room, a realization silenced my normally loud brain: This is not how God wants me to live. He promised me freedom.
And I knew, with the certainty that can only come from the Holy Spirit, that the same God who called me to live in freedom would give me the tools to do so.
That was my call to action moment, where I sensed God challenging me to make a choice. I could remain stuck in my gunk, slipping further and further into fear. Or I could follow His lead, however He led, in this battle for freedom. Praise God, and by His grace alone, I chose the latter and began actively, persistently, and consistently praying against my fear. Every time I felt that knot in my gut, I paused to seek God's help and His strength. I asked Him to break the power my fear had over me, which at the time felt insurmountable, and in its place, to flood my soul with peace.
I was following the biblical example of the father who began in fear and anguish, but received that which he desperately sought. We read his story in Mark chapter 9, which we discussed in relation to praying versus arguing, a couple months ago. To refresh your memory, Scripture tells us, one day Jesus took Peter, James, and John up onto a mountain where He revealed to them His glory in an unforgettable, awe-inspiring way.
While they were gone, a deeply distressed father came searching for Jesus. Not finding Him, he sought help from His disciples, maybe because he'd heard about all the miracles they'd performed not long before (Matthew 10:1-20). His situation, it seemed, was simply too hard; the disciples failed. But then Jesus arrived, and, noticing a conflict between His followers and the teachers of the law, asked what they were arguing about.
Scripture says, "A man in the crowd answered, 'Teacher, I brought You my son, who is possessed by a spirit that has robbed him of speech. Whenever it seizes him, it throws him to the ground. He foams at the mouth, gnashes his teeth and becomes rigid. I asked Your disciples to drive out the spirit, but they could not'" (V. 17-18).
Then Jesus summoned the child, and the demon "threw the boy into a convulsion." The child "fell to the ground and rolled around, foaming at the mouth" (v. 20).
After a short explanation, the father said to Jesus, "If you can do anything, take pity on us and help us" (v. 21).
To which Jesus responded, "'If you can'? Everything is possible for one who believes" (v. 22).
Hearing this, the father let out a guttural, shriek-like cry, krazo in the original Greek, perhaps because he feared his son's healing depended on his faith. He exclaimed, "I do believe; help me overcome my unbelief!" (v. 24).
Here's what I find encouraging. Jesus didn't get upset at the man. He didn't rebuke him and send him away for his weak faith. Instead, He responded to the father and son in love and grace. He commanded the demon to leave the boy, never to return again.
This passage reminds me to bring my anxieties to Jesus, and to seek Him in the midst of my doubts, knowing He won't chastise or reject me. Instead, He'll give me precisely what I need–increased intimacy with the only One whose love has the power to cast out my fears. (1 John 4:18).
Friends, He's been so faithful. That fall when I began actively and persistently praying against my fears? That was a life-changer for me. I didn't notice much difference at first, and there were times I wondered if my constant requests were doing any good. But I kept praying, day after day, sometimes moment by moment, month after month. Then, one day some six months later, I realized a situation that had once triggered intense anxiety barely bothered me anymore, and other situations no longer bothered me at all. God indeed had been working.
He was working on a spiritual level, using His supernatural power to break the chains that kept me bound. He was also teaching me how to grab hold of His freedom, step by step. To turn to Him in times of fear. Through this, I practiced stopping my anxious thoughts before they gained moment and rerouting them onto the good, in essence, onto God.
Lessons I probably wouldn't have learned, had God immediately eradicated my anxiety.
Let's talk about this! Do you suffer from anxiety? And if so, how often do you pray against your fear specifically?
Share your thoughts with us in the comments below, and make sure to connect with me on Facebook and Instagram.
Ministry leaders, if you feel this message would resonate with your women, consider booking Jennifer for your next event. Find out more about her 3-part message on fighting fear to grab hold of God's peace HERE.
Check out the Faith Over Fear Bible reading plan HERE.
I also encourage you to check out the latest Faith Over Fear episode. In it Philip Yancey shares his experience with religious abuse and his journey of untangling the false to find authentic faith.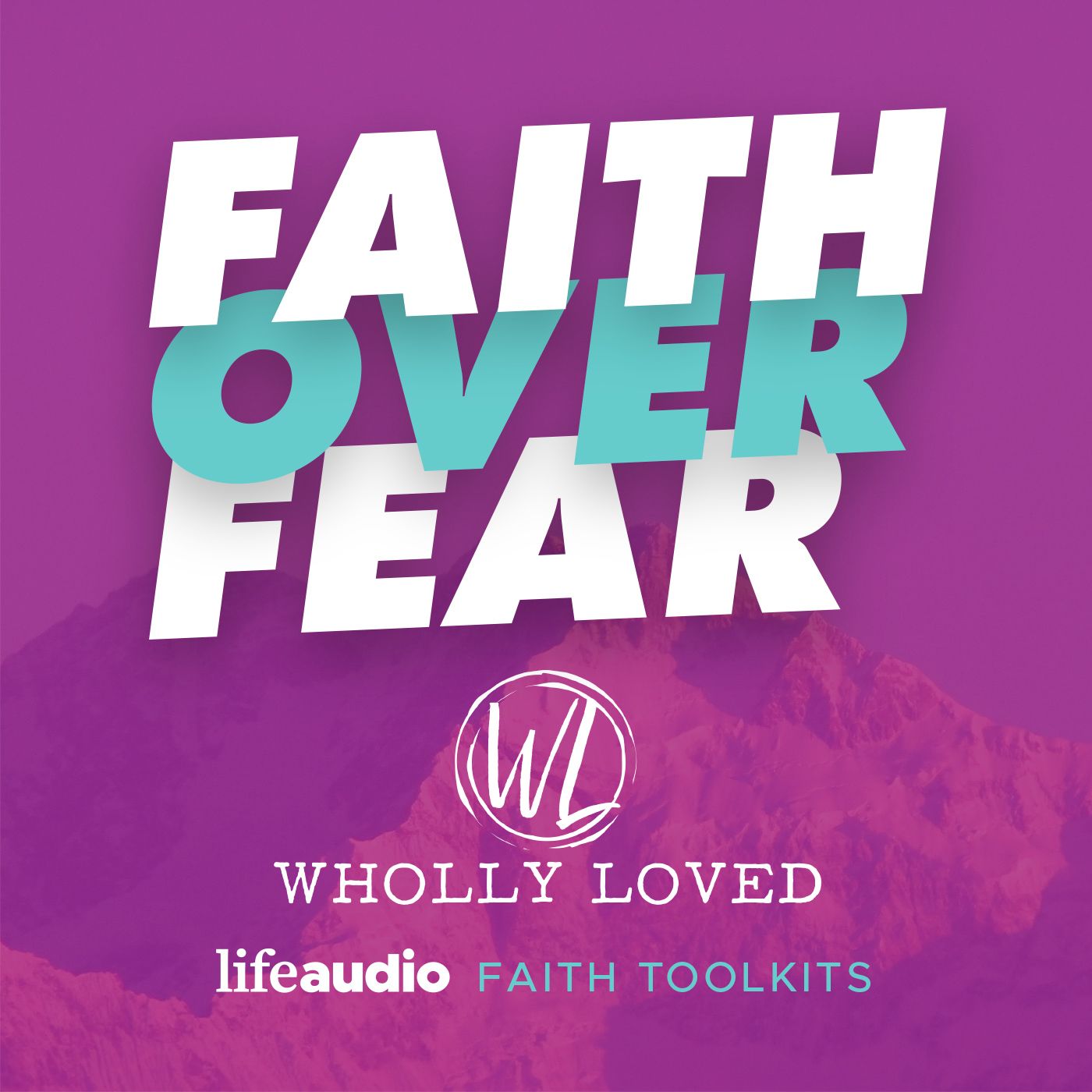 How to Have Peace When God Is Silent – Ep. 110
–
Faith Over Fear
Everything feels easier when we sense God is guiding us. But what do we do when it seems as if God isn't responding to our prayers? During periods of divine silence, we might assume that we have done something to make God angry or turn away from us. If we carry shame and unhealed wounds, we might be tempted to view God's supposed non-response as confirmation of the inner lies that tell us we're worthless, discardable, or a failure. Our assurance grows, however, when we fill those gaps with truth and remember and reflect upon God's heart.In this episode, Jennifer Slattery discusses some of the common assumptions people make during periods of divine silence, what these assumptions reveal, and various truths that can help us stand in the full assurance of God's grace. Resource mentioned:Your Daily Bible Verse podcast, April 5th, 2022:
https://podcasts.apple.com/us/podcast/your-daily-bible-verse/id1477482900Find
Wholly Loved Ministries at:
https://www.WhollyLoved.comJoin
the private Faith Over Fear Facebook Group:
https://www.facebook.com/groups/442736966614671Join
the Private Wholly Loved Community Group (also on Facebook):
https://www.facebook.com/groups/443325386241769Questions:1
. What resonated with you most in today's episode?2. Can you share a time when you felt God wasn't answering your prayers? How did you feel?3. Did you learn anything through that seemingly silent period?4. Why is it important to remind ourselves of God's character and heart toward us?5. During times of silence, why is it important to reflect on God's grace?6. What Scripture passages do you turn to when you wait on God (for answers or intervention)?7. Is there anything you're doing, or not doing, on your end that might drown out God's voice?8. What are some of the ways God speaks to us? (Name as many as you can think of.)9. Why is it important that we consistently read our Bibles?10. What is one action step God is asking you to take after having listened to today's episode?