(The following is an adapted transcript from the Your Daily Bible Verse podcast, which aired on November 3rd, 2021.)
Jesus didn't say our would wouldn't hurt. He didn't promise to shield us from disappointment and struggle, but He did assure us He'd give us the strength to remain standing, to keep stepping, and ultimately, to overcome.
"I have told you these things," He said, in John 16:33, indicating everything He discussed in the chapters prior, "so that in me you may have peace. In this world you will have trouble. But take heart! I have overcome the world."
Some translations say, "In this world you will have tribulation," which would make us think of external problems like storms, wars, persecution, and sickness. Jesus certainly told us to expect all of those things. The word He used in this instance, however, pointed to the internal pressure one experiences outward hardships leave them feeling trapped without options or means of escape.  
It's like He was saying, "My dear friends whom I love, life is going to become hard, and you will be afraid." 
This reminds me of His earlier statement in John 14:1 and 27 when He told the disciples not to let their hearts be troubled, adding, the second time, "and do not be afraid." 
When we read those words, we might feel a surge of guilt or self-condemnation, assuming Christ becomes upset we feel afraid. But I view His statements as gentle encouragement; an invitation to seek Him and His strength.
"Do not LET your hearts be troubled," He said, as if He knew this was going to be a fight. Adding in verse 27, for emphasis, and do not be afraid.
"Take courage," he urged, which, based on the original Greek, means to strengthen oneself from within, or better yet, to allow God to strengthen us. 
That is how we battle our fears. By believing in, trust in and rely on, Christ. As we intentionally reflect on who He is, what He's done, and all He's promised and evaluate our fears in light of all we know is true, our faith grows.
And so He invites us to believe, in an ever deepening way, in Him.
Why?
Because He overcame the world.
Notice, He didn't say, because "I might overcome" or even "I'm going to overcome" but rather, "I've already overcome." He let His disciples know, before the resurrection, that the victory was already won. He had already overcome. His disciples, His beloved friends who belonged to Him, had already overcome as well. And just as surely as their victory had been already been won, in Christ, ours has also.
As 18th century Bible scholar John Ellicott wrote, "The enemies they fear, the world in which they have tribulation, are already captives following in the Conqueror's train. They themselves have pledges of victory in and through His victory."
Life will feel hard at times. Frightening. Jesus didn't deny that, nor did He condemn His disciples for the emotional struggle they'd soon experience. As He was speaking to them, laying out all that would soon happen, not once did He chastise them for their sorrow and fear. Instead, He acknowledged it, validated it, but then He spoke His truth, peace, and love into them. 
He invited them let their fears drive them deeper in their relationship with Him. That was how they'd "take heart" or have courage, as some translations phrase it. 
And in this, we see His tender heart to comfort and encourage us. To love us, because He knows it's His love, not His anger or judgment, that has the power to cast out all fear. 
What is one truth regarding Christ-His character, power, or promises-you can focus on the next time you feel afraid?
Speaking of enduring hard circumstances, make sure to listen to the latest Faith Over Fear podcast episode to hear how God helped Wholly Loved's Kelly Campbell hold tight to hope when she began slipping into despair.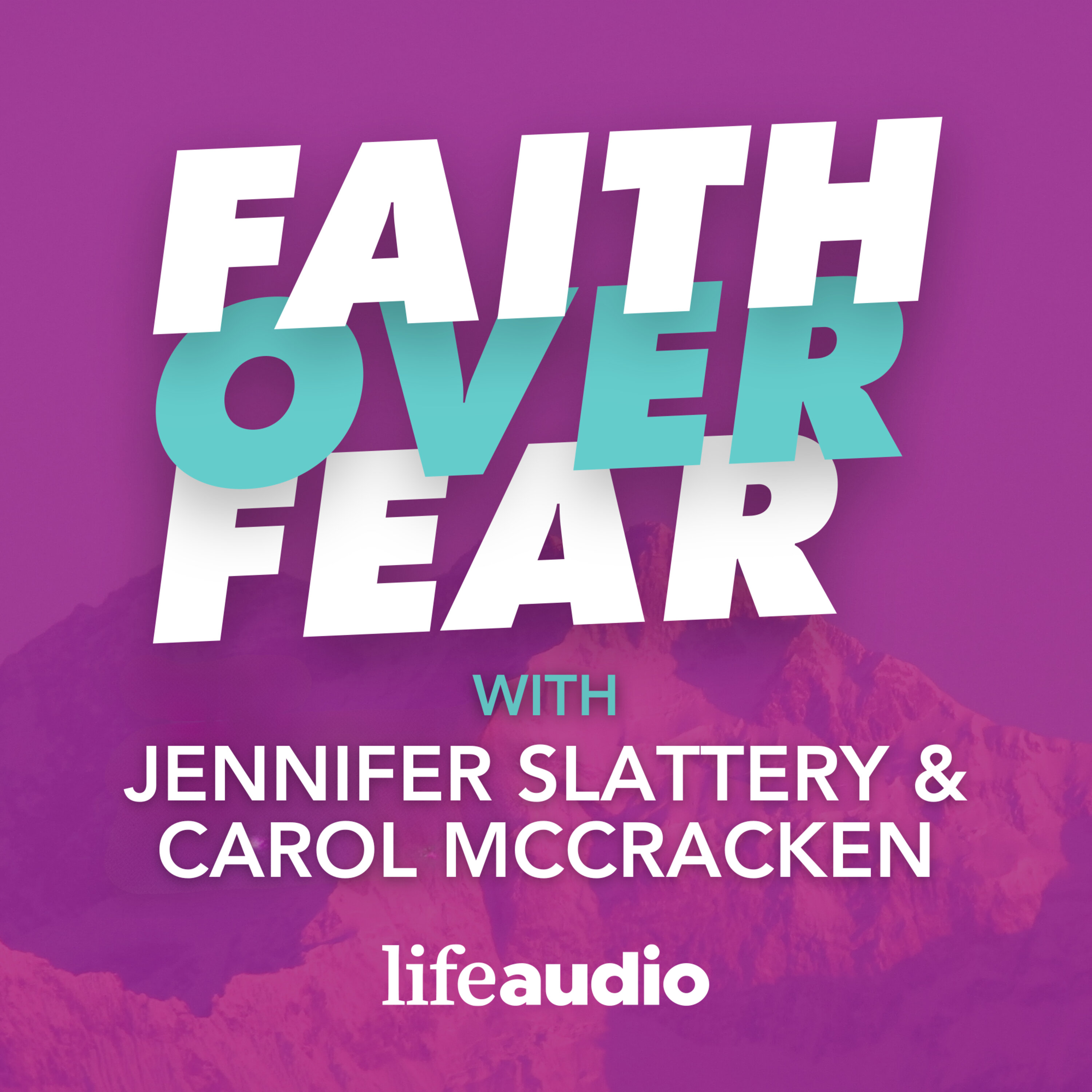 Courageously Proclaiming Our Faith (Genesis 12:5-8)
–
Faith Over Fear
It's one thing to internalize a promise from God, it's another to make that a public proclamation. When we're open about our faith and the promises we're holding onto – especially in a difficult or unknown season – we're inviting others to experience the goodness and faithfulness of God, too. While it's not always the easiest step to take, proclaiming our faith publicly has greater impact than we might imagine. Find Kimi at:
https://kimimiller.com/
https://www.facebook.com/LivingReflectionsMinistry/
https://www.instagram.com/livingreflectionsministry/
Find Tami at:
https://www.tamiwittrock.com/
Find Wholly Loved Ministries at: WhollyLoved.comJoin the private Faith Over Fear Facebook Support GroupJoin the Private Wholly Loved Community Group (also on Facebook): When in your life, have you made a public proclamation of faith? How did that impact you and/or those around you? Is there an area or season of your where God is asking you to make a public proclamation of faith? Is there someone in your life who might be encouraged by your proclamation to stand on God's promise? How can you stay encouraged when all you have is God's promise to hold onto? What have been some faith markers in your life? How did those reassure you to keep holding on?  What are some ways to express your gratitude for God's faithfulness? How can praising God encourage you and others along the way?  See omnystudio.com/listener for privacy information.