Today's post first published on May 23, 2019.
But before you jump in, a quick fun announcement! My latest novel, Chasing Her Dream, has hit shelves across the nation, and to celebrate, I'm hosting a fun giveaway. I'll share more, along with info on the podcast episode that dropped today, after the post.  
Encouragement for the Fatigued and Discouraged
Discouragement, fatigue, and feelings of defeat are perhaps the most powerful vision destroyers and faith derailers. These emotions, often fed through negative thinking, paralyze God's people. I know, because I've allowed momentary setbacks, lack of results or response from others to hinder my productivity—my obedience—on numerous occasions.
This morning, I made a list of my greatest challenges to obedience:
Focusing on results rather than obedience. If I dig to the root of this obstacle, I discover I've likely forgotten that God's wisdom is greater than mine, that He's always present, is always working out His plans, and, in His sovereignty, will ensure that everything plays out precisely as He desires. And since He knows best, the results, whether deemed "successful" by human standards or not, will be good because He is good.
 Allowing my identity to get tied up in that "thing." It's interesting, or perhaps sad would be more accurate, how often I entangle who I am with what I do or don't do. When I look to accolades, roles, or outcomes to define me, my security becomes unstable and my confidence subjective.
Focusing on others—what they are or aren't doing—rather than God's leading. When God calls me to something, especially if that something is hard or requires perseverance and sacrifice, my eyes can begin to roam. I can begin to compare my assignment or results with others.
Fatigue. Sometimes I simply need to rest—in God's presence.
Fear of failure. This fear tangles challenge one with challenge two. To overcome this fear, I must shift my focus from results to obedience and remember, regardless of the results, that role or achievement doesn't define me. I belong to God, am chosen by Him for an eternal purpose, and He will perfect all that concerns me.
God addresses each of these faith-hindrances in Daniel chapter 10. Daniel, a prophet living in a foreign land during a time of oppression, was devastated by his circumstances. He'd cried out to God, acknowledging the sins of his people and asking for forgiveness and restoration. (Daniel 9). God had responded by telling him further destruction would come. And Daniel fell into a three-week depression. (Daniel 10:2).
God responded not by changing his circumstances but instead by centering him in His love.In the middle of Daniel's despair, a man dressed in white whom some believe was Jesus Himself, appeared and said, "Daniel, you are very precious to God" (v. 11). "'Don't be afraid,' he said, 'for you are very precious to God. Peace! Be encouraged! Be strong!'" (v. 19).
I love that this man affirmed Daniel twice: "You are precious to God. You are precious to God."
How often do we need to hear those words? When we're doing all we can to raise responsible, Christ-loving children, but they rebel against us. Or when we're faithfully performing our work responsibilities each day, but coworkers or perhaps a hostile boss continually stands against us. Or perhaps when we're following all the doctors tell us to do, praying daily for healing, and yet the tumor grows.
In those moments, it's easy to feel discouraged and deflated. Completely alone. But God says to each of us, "You are precious to God. Don't be afraid. Be encouraged! Be strong!"
What are you facing today? Don't fight that battle alone. Press into Jesus and
remember, you are precious to Him. He's standing beside you and going before you. He hears you and sees you and promises to never leave.
For those wanting to follow my Bible reading (largely following chronologically with Ezra, though Daniel 9, which should fall on day five, is presented first to correlate with today's post):
Day one: Daniel 9
Day two: Haggai 1
Day three: Haggai 2
Day four: Zechariah 1, 4
Day five: Ezra 5
Day six: Spend a day reviewing, journaling on, and praying over what God showed you during your day one-five Bible reading time.
You can use these questions, pulled from Wholly Loved' Becoming His Princess Bible study, as a guide each day.
Who are the main characters in this passage?
What does this passage reveal about the human condition, such as:
Mankind's rebellion against/obedience toward God?
Mankind's attempts to fill their needs apart from Him or relying on Him for their needs?
Mankind's attempts to reach Him on their own terms?
What does this passage reveal regarding God's nature?
What does/might this passage reveal about God's plans?
How might this passage reveal mankind's need for the gospel?
In what ways are you/have you been similar to one or more of the characters in this passage?
What might God want you to know through this section of Scripture?
What might He be asking you to do?
Want to join the Wholly Loved Facebook community to connect with other ladies who are growing closer to Christ, find a place to authentically share your struggles and celebrations, and explore God's truth? Then click below! Find us HERE. 
Now for the Book GiveAway
Snatch a photo of my latest release, Chasing Her Dream, on the shelves, share it on social media, tag me, and tell us where you found it, and I'll enter you into the drawing to win all of these fun books!
Chasing Her Dream:
She needs his help…
But can she trust him again?
After she inherits her uncle's mismanaged ranch, single mom Rheanna Stone's not sure she can also handle saving abused horses from a nearby property. So when rancher Dave Brewster offers to stay in town to help, she can't say no—even if he left her once before. As they grow closer, old secrets are uncovered…but can they heal past heartbreak to give themselves a new beginning?
From Love Inspired: Uplifting stories of faith, forgiveness and hope.
Find it HERE.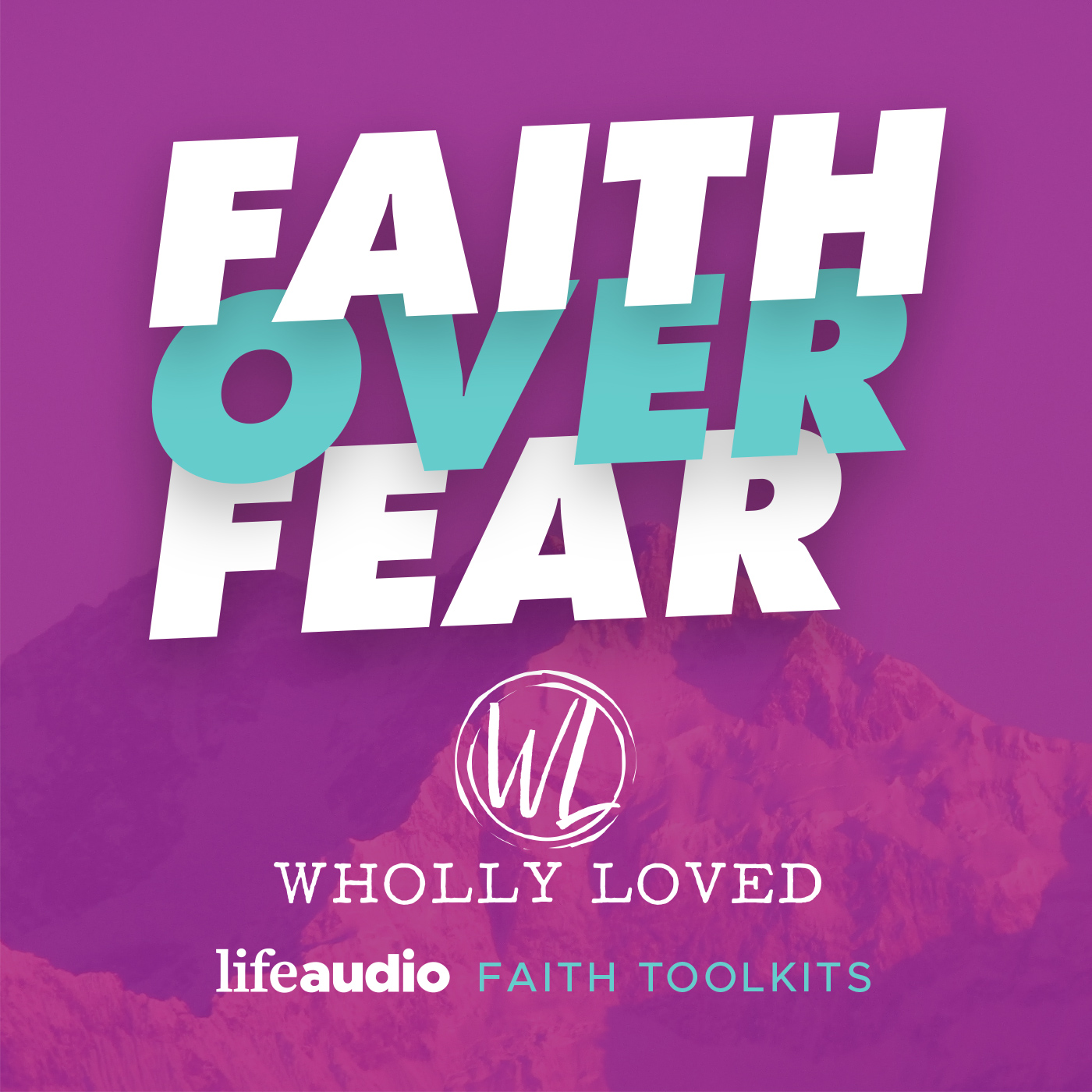 The Courage to Shine a Light for Jesus – Ep. 88
–
Faith Over Fear
In our dark and hurting world that is often antagonistic to biblical truth, we might feel tempted to surround ourselves with other Christ-followers and to insulate ourselves from the world. But that isn't the life to which God calls us. Jesus said that you and I are the light of the world. We're not meant to be hidden. Instead, God wants us to shine brightly for Him, recognizing that our world needs His life and hope now more than ever. Find Kimi:
https://kimimiller.com/
http://whollyloved.com/meet-the-team
Find Jennifer:
https://jenniferslatterylivesoutloud.com
https://www.facebook.com/JenSlatte
https://www.instagram.com/slatteryjennifer/
Find Wholly Loved, at:
https://www.WhollyLoved.com
Join the private Faith Over Fear Group Here:
https://www.facebook.com/groups/442736966614671
Join the Wholly Loved Community Group Here:
https://www.facebook.com/groups/443325386241769
Sign up to receive her 30-Day Fighting Fear emails HERE. Group Discussion Questions: 1. What resonated with you most in today's episode? 2. What are some ways you've witnessed God's light shining through others? 3. How did you feel when you were around those individuals? 4. What are some ways you believe God's light shines through you? 5. When do you find it easiest to shine with the light of Christ? 6. When do you find it most challenging to shine God's light? 7. What type of behavior would you equate to turning on the "flood lights"? 8. In what ways can such behavior prove counter productive? 9. When have you sensed God asking you to walk beside someone else when they felt as if their circumstances were particularly dark? 10. What are some ways you tried to bring light into their dark season? Episode Image Credit: Getty/drogatnev
Scripture quotations are taken from the Holy Bible, New Living Translation, copyright © 1996, 2004, 2015 by Tyndale House Foundation. Used by permission of Tyndale House Publishers, Inc., Carol Stream, Illinois 60188. All rights reserved.