Note: This post first published on May 5, 2016.
"I'm quitting my job."
It was the last thing I expected to hear from my ultra dependable, hard-working husband. And yet, looking back, I should've seen this coming. He'd been beaten down and overworked for far too long. I should've responded to his statement by wrapping him up in a giant hug.
Instead I hit freak-out mode. He was our sole bread winner. We were living in an expensive suburb of California. I stayed home with our daughter, homeschooled her in fact. And had zero desire to change our education plans.
Fast forward a few months, and my husband handed our house keys to our realtor, in essence declaring to her, our neighbors, our friends and one another that we didn't plan on returning.
He'd turned his work keys in the night before.
My husband still hadn't found a job, though we were hopeful. And I was panicked, like ready to vomit panicked, though I largely kept my emotions in check–to Steve and my daughter. My prayers, however, were another matter entirely:
Help us, Lord! Fix this! Give me just a hint that all this will work out.
Then, we packed our van, and headed for the Grand Canyon. For a family vacation.
Because everyone goes on vacation when unemployed right? Made perfect sense to me.
Not.
Long story short, God came through. My husband received a job offer that very day. Our house sold for full asking price. That very day. We went on our vacation and the Slattery family lived happily ever after.
Not. So not. Because life is full of upheavals, uncertainty, set-backs and gut-churning panic moments. But over the years, having made it through numerous unexpected and sometimes frightening situations, I've learned how to find peace in times of uncertainty. All I needed to do was follow, cling to, believe in, and live out, to the best of my ability, God's wisdom and truth. Because His promises will never, ever fail.
The next time you're facing a panicked moment, follow the steps laid out in Psalm 37:
3 Trust in the Lord and do good.
    Then you will live safely in the land and prosper.
4 Take delight in the Lord,
    and he will give you your heart's desires.
5 Commit everything you do to the Lord.
    Trust him, and he will help you.
7 Be still in the presence of the Lord,
    and wait patiently for him to act.
23 The Lord directs the steps of the godly.
    He delights in every detail of their lives.
24 Though they stumble, they will never fall,
    for the Lord holds them by the hand. (NLT)
Trust. Not in our circumstances, our spouse, our savings account or that job, but trust in the Lord. Remember His character. He is always and only faithful, loving and true. Remember His promises and how He has proved them true for you in the past. Center your mind on truth–what you know from God's Word, and refuse to engage negative, fretful thinking.
Do good. God has a good, eternal work for us to do each day. Some days that ministering to a neighbor or serving the needy. Other times it's building up our family and pointing them to Christ. Consider that God may have put you in the position you're in, as uncomfortable or frightening as it may be, to touch a heart or reveal His grace through you. So do good. Serve Him in the hard and the easy. And take joy in knowing your purpose extends beyond you and your circumstances. 
Delight in Christ. Draw near to Him through prayer, music, and Bible reading. Soak up His presence; let His Holy Spirit fill you completely, knowing He will be strong on your behalf. Don't let the uncertainty of the moment rob you of the sweet treasure of resting in His presence.
Commit everything to Christ. I could likely write an entire book unpacking this one but I'll sum it up with one word: surrender. Surrender the moment, the situation, yourself, your heart and plans, to God. Leave it all in His hands, knowing He's working at this moment on your behalf.
Be still and wait patiently. He will fight for you. He is working out a plan for your life, for your family, for your marriage–for whatever you're facing. You won't move things along any faster by fretting, but you may when you take the time to be still in His presence, soaking up His strength and listening for His direction. At least, when you do that, there's a much better chance you won't do anything to make matters worse through a panicked reaction.
Follow. If you belong to Christ, your spiritual ears have been quickened so that you can recognize His voice (John 10:16). Scripture promises God will and does speak to us (Isaiah 30:21). Psalm 16:7 says, "Even at night my heart instructs me." So listen. Then obey.
Let's talk about this! What are some ways you grab hold of peace when life feels crazy and uncertain? Do you have any go-to verses you like to pray or meditate on? Any songs you find especially helpful?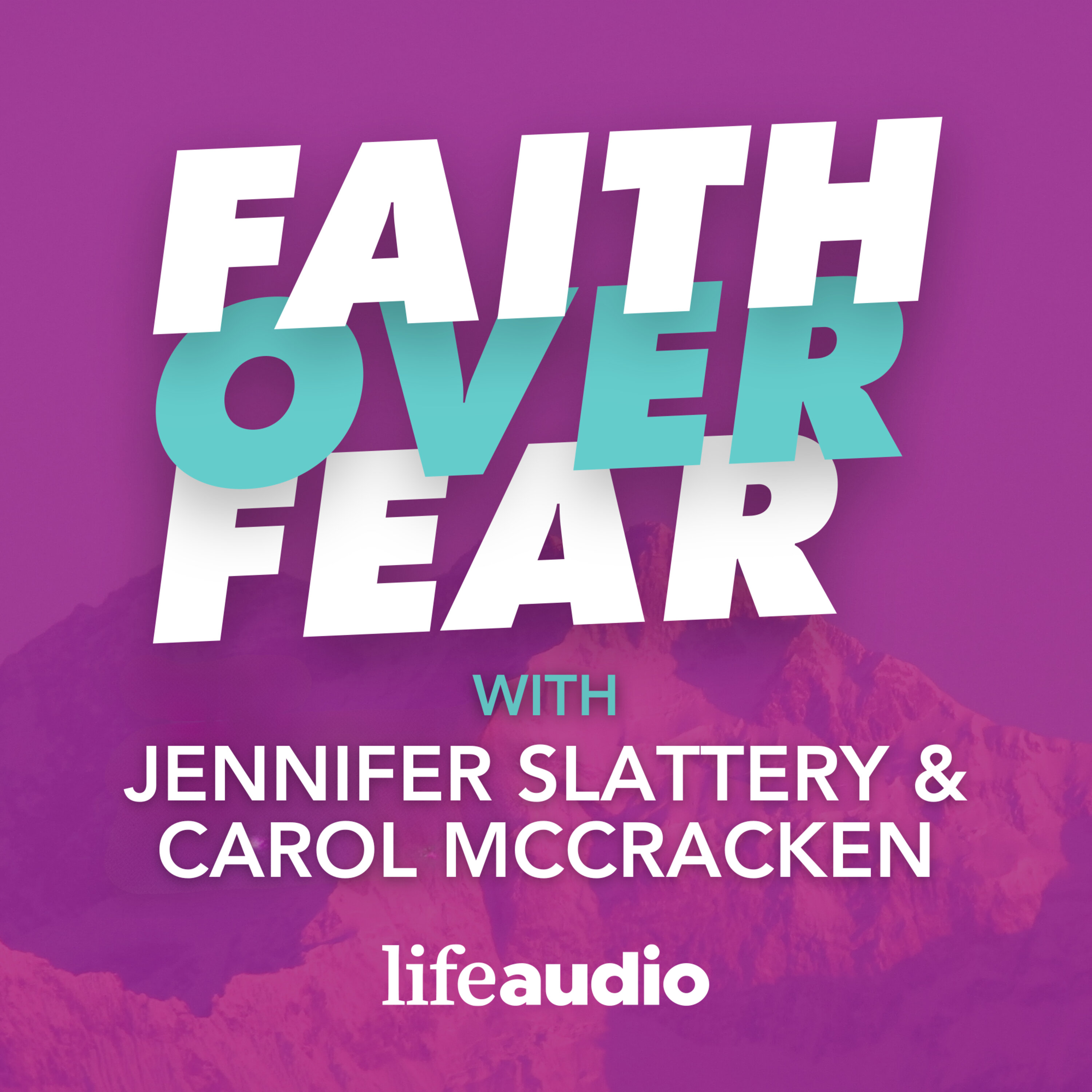 The Courage That Comes When We Know We're Not Alone
–
Faith Over Fear
Our world has become increasingly disconnected, where independence is often emphasized. This, and the past wounding that comes from engaging with imperfect people living in a broken world, can make it challenging to build deep, interconnected and interdependent relationships. We might even begin to believe that we can live life alone. But God invites us to find safe, loving people we can connect with, gain strength from, and experience support when circumstances feel hard and uncertain. In this episode, Wholly Loved's Michelle Lazurek and Jennifer Slattery discuss the courage that can come when we know we're not alone.  (Scroll down for discussion/reflective questions.) Find Michelle: On her website Facebook Instagram Amazon Find Jennifer Slattery: On her website Instagram Facebook Amazon Discussion/Reflective Questions: What resonated with you most in this episode? What are some of the characteristics of healthy relationships? How would you describe "interdependency"? When do you tend to feel you most need the support of others? Who, in addition to God, do you most tend to turn to when you feel overwhelmed or frightened? How can (or has) leaning on others during difficulties help (or helped) increase your strength during stressful times? How can our living deeply connected with others help us experience God's love on a deeper level? What is one action step God might be asking you to take having listened to this episode?  See omnystudio.com/listener for privacy information.