(The below first posted in the summer of 2016.)
Don't Despise the Wildnerness
by Julie Arduini
It was 2003. I lived in Upstate NY and the financial consequences from 9/11 hit our small city hard. The main corporation in town, Corning Inc., let go 20% of their workforce. At the time, their stock was worth less than a slice of pizza at the local shop. Most businesses in town were somehow connected to Corning, including my husband's employer. His work dried up to the point that the employer left the business and told his employees to keep it
running—without salary or benefits.
Our baby came into our lives that August and I thought for sure my new role as a full-time mom would be the needed turn. Not long after her birth my husband realized he had to get another job. Our health insurance alone was a huge amount per month plus a 20% co-pay. On paper, we never had the amount. In reality, God provided. Yet, something had to give.
Once my husband started working as a temp to help make ends meet, we received news that our daughter's newborn tests were abnormal. After hearing all was fine, we later learned the office made a mistake and our daughter was not fine. They sat me down and told me that because she lost 8 weeks of needed medicine, we were to prepare our child for mental retardation.
The hits became relentless. Our daughter got sick before Thanksgiving. Although we were changing doctors, we still hadn't found one, so we went back. He prescribed a medicine with codeine, something I questioned for a three-month baby. He assured me he'd prescribed this for years.
Our daughter nearly died on Thanksgiving Eve.
As she recovered, we learned my dad had lung cancer. I refused to believe it. He looked so good. They didn't want anyone to know for fear he'd be treated differently. As Hannah battled RSV and pneumonia and my husband learned his second job was ending and that a company five hours away wanted to hire him—my dad wasn't getting better. Three weeks after my husband moved to his new job knowing no one in an apartment the company found for him, my dad passed away.
I was grieving while taking care of two small ones, including a chronically sick baby. My mom was beside herself losing her husband and her daughter's family. Once I sold the house and reunited with my husband, I remember sitting in Ohio, shell-shocked.
I felt completely abandoned by God.
It was in Ohio I found mentors and Bible studies that helped me. One day I was reading Beth Moore and she mentioned Hosea 2:14: 
That verse made this season almost feel like a gift.
A blessing.
As the grief subsided, I realized there were lessons I learned in the wilderness I never could have grasped in the clearing. I was introduced to opportunities that I never imagined I could have been prepared for. Those excruciating times were when God drew me close and taught me things. Showed me secrets and strategies. Most of all, loved me in an intimate way I'd never known.
The wilderness is scary and no one would voluntarily sign up for it. However, I don't resist it anymore. I know a lot of fruit comes out of the wilderness. I wouldn't be writing without those times. I hope my story encourages you. Don't be afraid of your Hosea 2:14 wilderness.
***
"You need to leave me alone. It's the least you can do."
Carla Rowling has been given her dream of attending cosmetology school. The gift is so generous she feels unworthy because of choices she made as a teen. The pressure mounts as Carla juggles school, is a single mom, helps her best friend Jenna plan her wedding, spends time with boyfriend Will Marshall, and deals with the fact that her son's father is back in their lives.
Will Marshall is the one Speculator Falls resident everyone can count on. His truck deliveries are reliable. He's the first to help friends like Ben Regan with boat work or be a card partner with Bart Davis. Will's ready to settle down with Carla, loving her is natural. He's bonded with her son, Noah. But when Carla starts cosmetology school, she puts emotional distance between her and Will.
Can Carla release her past and create a future full of highlights, or, will she burn her options worse than a bad perm?
Buy Entangled on Amazon.
***
Julie Arduini loves to encourage readers to surrender the good, the bad, and —maybe one day—the chocolate. She's the author of the  re-release, ENTRUSTED: Surrendering the Present, as well as the sequel, ENTANGLED: Surrendering the Past. She also shared her story in the infertility devotional, A WALK IN THE VALLEY. She blogs every other Wednesday for Christians Read. She resides in Ohio with her husband and two children. Learn more by visiting her at http://juliearduini.com, where she invites readers to subscribe to her monthly newsletter full of resources and giveaway opportunities at JULIE ARDUINI: SURRENDER ISSUES AND CHOCOLATE and the weekly e mail. SUNDAY'S SURRENDER AND CHOCOLATE.
Connect with Julie on her website, Facebook, Twitter, Google+, Pinterest, and Goodreads.
Before you go, make sure to catch the latest Faith Over Fear podcast episode: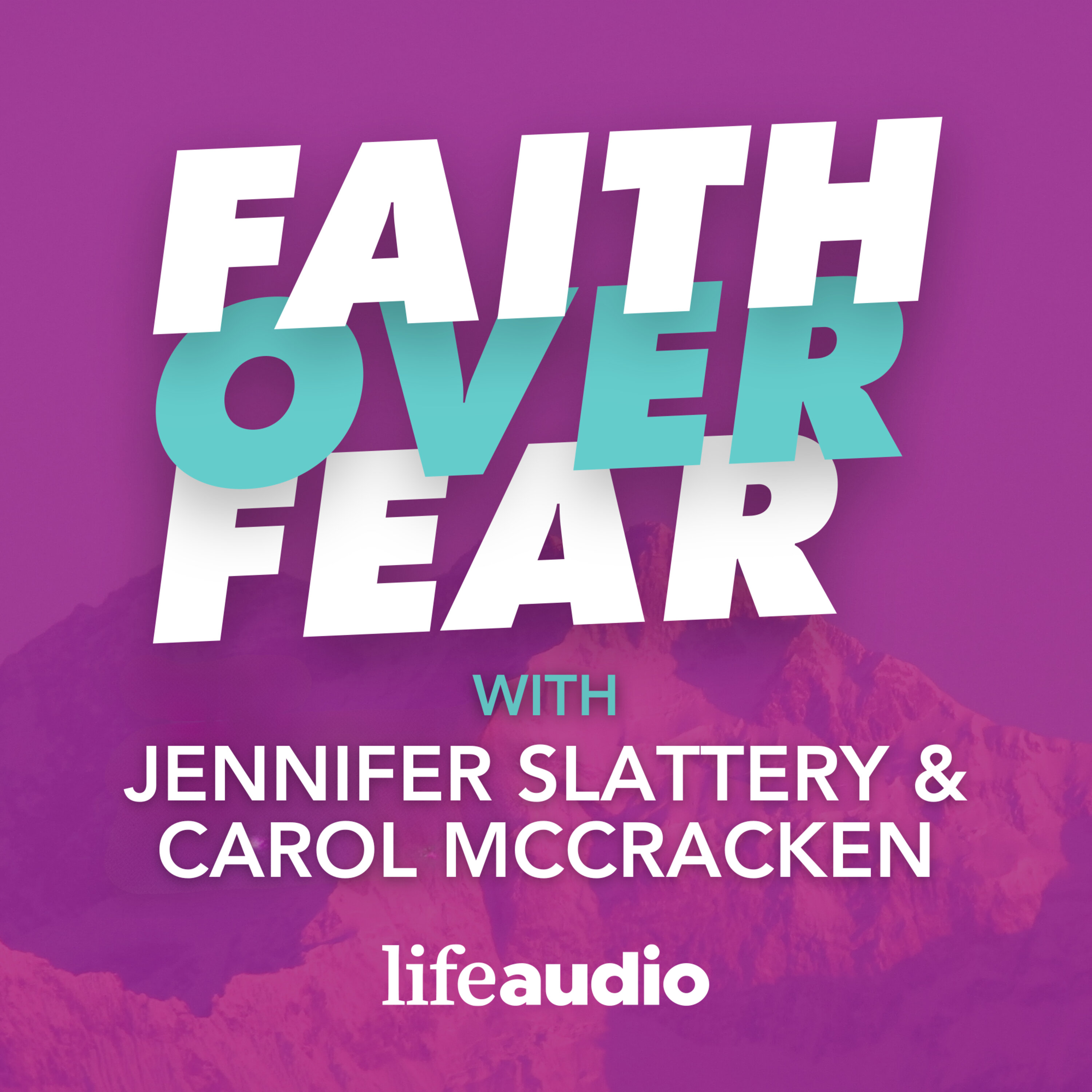 When You Fear You've Blown Your Calling (Genesis 20)
–
Faith Over Fear
Have your sins and failures ever seemed greater than God's grace? Have you ever feared that you've done something to forfeit your calling? In this episode, Carol shares a story about a Christ-follower who, in fear, killed someone. But God's grace reached deep into that prison and revealed a calling greater than a murder conviction.  (Scroll down for discussion/reflective questions.)  Find Carol McCracken: On her website  On Facebook On Instagram Find Jennifer Slattery: On her website Instagram Facebook Find Wholly Loved: On their website Join the private Faith Over Fear Facebook Group  Join the Private Wholly Loved Community Facebook Group Discussion/Reflection Questions: What resonated with you most in this episode? Have you ever feared you did something to forfeit God's call on your life? If so, how?  What did Jason Kent's story reveal regarding God's heart? What did Jason's story reveal regarding God's power? What thoughts or emotions arose when Jennifer said that God uses us for His perfect purposes despite our imperfections? What did God's response to Abraham's sin reveal regarding His heart? What is the significance of God referring to Abraham as a prophet? Why might God have had Abraham pray for Abimelech?  What is one step God might be asking you to take after having listened to this episode? See omnystudio.com/listener for privacy information.