(This post first published on February 13, 2020.)
When I'm feeling anxious, which is often, my husband says he's going to "sit on me." This isn't some idle threat, nor a threat at all. Rather, his words convey a promise to, literally and figuratively, cover me with his strength and love, though he doesn't actually sit. Instead, he rolls over on top of me, completely enveloping me in his much bigger and stronger self. Perhaps he's attempting to squeeze out all my angst, or maybe, not knowing what else to do, simply wants me to know he's there, sees my inner struggle, and that he cares.
The first time he "covered me" in his love occurred around eight years ago. It had been a tough week during which God had allowed some deep, long buried hurts from my past to resurface. In the middle of this painful, fragile time, I received a phone call that left me sobbing so hard, I couldn't catch my breath. It was as if every hurt once suppressed suddenly rose to the surface. It's hard to describe the intensity of my emotions except to say that it literally felt as if my heart were shredding .
And in the middle of my ugly cry, as I lay in bed, tears coursing down my cheeks, my husband came to my side and immediately rolled on top of me, squishing me in the strongest, firmest, most immovable hug I'd ever experienced. "I love you, I love you, I love you," he said over and over. Then, after maybe the tenth time, realization hit: "That's Jesus."
I understood, with tear-quieting clarity, that Christ was loving me through my husband in that moment. Though this experience and the understanding that followed didn't alleviate my pain, it did make it more bearable, because I knew I wasn't alone. Through my husband, Jesus showed me that He saw me, loved me, was with me, and would carry me through.
When my emotions and circumstances feel out of control, I love to spend time reading through the Psalms. Many of them were written by a man named David who was hunted down for years and, at one point, forced to hide in a cave. Though proven to be a courageous warrior, many of his psalms reveal he also struggled with fear. But in the midst of his most terrifying circumstances, he never lost sight of what he knew to be true: that sovereign creator God was always with him, would never leave him, and would one day turn everything to good.
When others warned him of threats, encouraging him to flee, he responded, in essence, saying, "I trust God to protect me, so why should I run." (Psalm 11:1) Even if a thousand dangers lurked in the shadows (Ps. 11:3), David refused to

cower, because he knew God was both intimately near (in His holy temple) and reigning from heaven (Ps. 11:4), where He could see all. Though life and David's circumstances might have felt out of control, truth told him otherwise. He knew with unshakable certainty that the all-powerful, all-knowing God was with Him, in the middle of his greatest challenge, engulfing him in love and truth.
As David Guzik from the Enduring Word puts it, "When David considers the greatness of God, the care of God, and the vision of God, it all outweighs the danger."
When we're anxious, may we consider and meditate on those same unchangeable truths, and may we wrap ourselves deeply, completely, in God's loving, protective embrace. Though this may not alleviate our anxiety, it will make it more bearable as we cling to the certainty that God will carry us through.
Let's talk about this! Do you struggle with anxiety? If so, what are some things you've found to help?
If you haven't already done so, consider joining Wholly Loved's private Faith Over Fear Facebook group where I share daily challenges designed to help all of us move from fear to faith. You can join HERE.
I also invite you to join Wholly Loved's private group where you can share your struggles, celebrations, doubts, and prayer requests and link arms with other women learning to anchor themselves in grace. You can find us HERE.
Additional resources you might find helpful:
Breaking the Fear Cycle by Maria Furlough
When Our World Feels Out of Control
Tracing Our Fears to Their Proclamations
Faith Over Fear Bible Reading Plan
Fear and Faith: Finding the Peace Your Heart Craves by Trillia J Newbell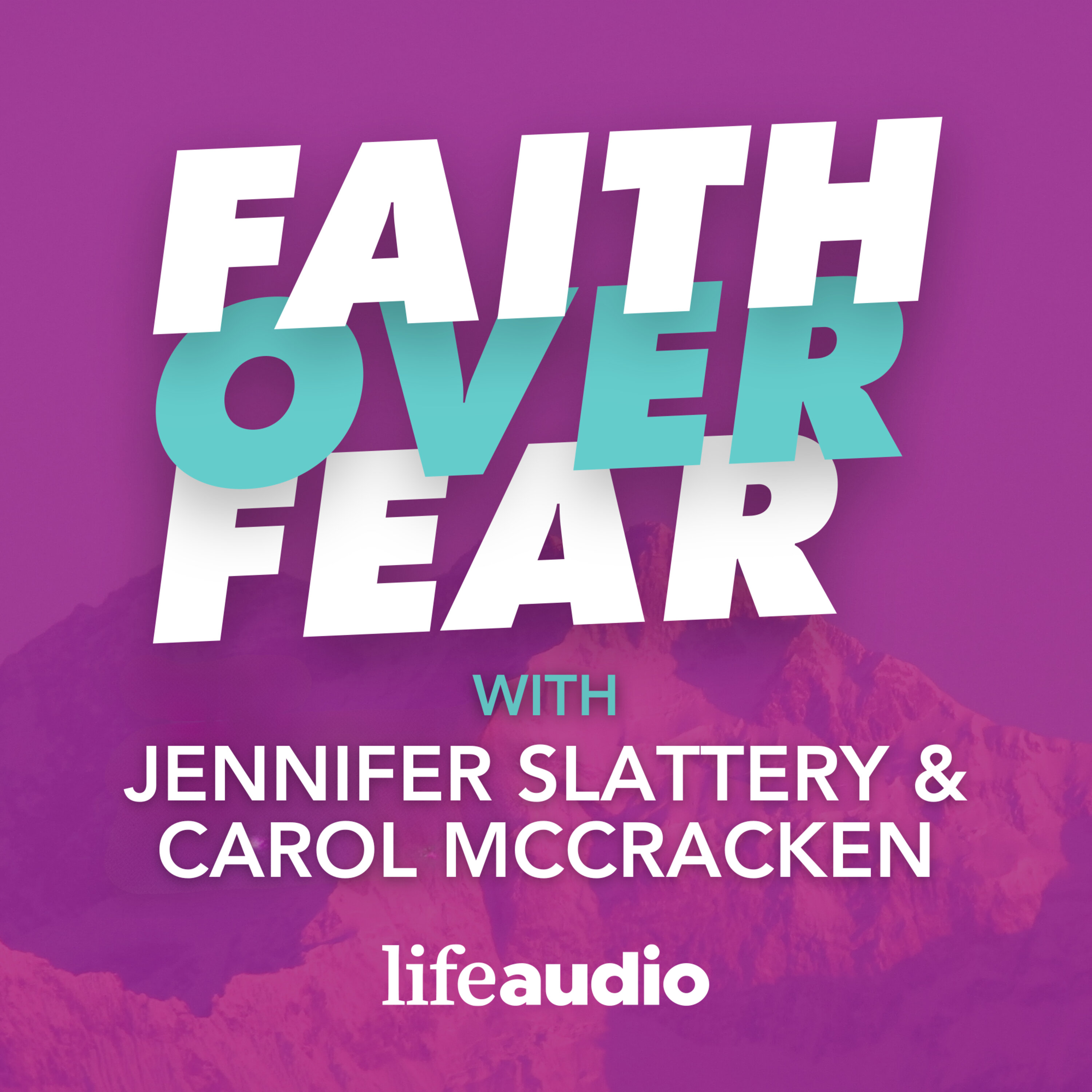 When You Fear You've Blown Your Calling (Genesis 20)
–
Faith Over Fear
Have your sins and failures ever seemed greater than God's grace? Have you ever feared that you've done something to forfeit your calling? In this episode, Carol shares a story about a Christ-follower who, in fear, killed someone. But God's grace reached deep into that prison and revealed a calling greater than a murder conviction.  (Scroll down for discussion/reflective questions.)  Find Carol McCracken: On her website  On Facebook On Instagram Find Jennifer Slattery: On her website Instagram Facebook Find Wholly Loved: On their website Join the private Faith Over Fear Facebook Group  Join the Private Wholly Loved Community Facebook Group Discussion/Reflection Questions: What resonated with you most in this episode? Have you ever feared you did something to forfeit God's call on your life? If so, how?  What did Jason Kent's story reveal regarding God's heart? What did Jason's story reveal regarding God's power? What thoughts or emotions arose when Jennifer said that God uses us for His perfect purposes despite our imperfections? What did God's response to Abraham's sin reveal regarding His heart? What is the significance of God referring to Abraham as a prophet? Why might God have had Abraham pray for Abimelech?  What is one step God might be asking you to take after having listened to this episode? See omnystudio.com/listener for privacy information.