Sometimes in my most stressful moments, especially this season, I sense God asking me, "Why is this thing you're fretting over so important?"
Have you ever paused to consider that question? When you're frustrated because your grocery store is out of fresh green beans and you'll have to buy frozen? Or maybe when you've searched ten stores for that item you know your spouse or child wants and still haven't found it? Or when you've been too busy or tired to put up decorations or to perform whatever task you're certain will make this Christmas perfect?
Maybe this is a sign of my age, but I'm learning to appreciate and prioritize the most important things. Or, perhaps to phrase it differently, I don't want to forfeit a peaceful home and heart, relaxed time with my family, silliness and laughter, and memory-making moments for a perfectly roasted turkey. In fact, if I had to choose between eating convenient store hot dogs with my family and a perfect holiday meal surrounded by tension and strife, I'd choose the former every time.
I suspect if asked, most of us would say the same. We just need periodic reminders.
Reminders that:
Our attitudes will affect our joy, and potentially our loved ones' as well, this Christmas more than any gift we give or receive.
The house we so frantically clean before company comes over, if used well, will soon become cluttered with jackets placed here and there, discarded wrapping paper, dirty dishes in the sink, and plump little handprints on our windows.
Many of the presents we spend so much on this year will eventually be long forgotten.
Our smiles, our kind words, the atmosphere of peace and joy we help create, and the way others feel when they're around us–those are the gifts people will remember for a lifetime.
And when we begin to carry the weight of trying to please someone else, to somehow prove, through our cooking or decorating, cleaning or baking, that we're a good mother or wife or human being, may we pause and ask ourselves, "Is that really what I choose to be defined by?" And, "Is this person I feel compelled to impress worth my joy and peace?" And perhaps most importantly, "Why does this person trigger my fears of rejection so?"
Because here's the thing. We might think someone else–their critical or judgmental nature–causes our anxiety. In reality, our inner angst reveals wounding within us and places where we aren't fully anchored in our true identity in Christ.
This means our most uncomfortable interactions are actually personal growth and healing opportunities. May we see them as invitations to slow down and seek God's heart, allowing Him to search every wounded and insecure crevice within us, so that He can heal and then fill it with His love.
Oh, what a gift that will be! One that will extend far beyond our tinsel, burnt gingerbread cookies, and over-cooked stuffing.
This, my friends, is the message of Christmas: You are loved. You are loved in your dirty house, cookie-fail, dry turkey, imperfect state by the One who entered into our world to show us what true love looks like.
What's more you are loved to love. Honestly, that's our only assignment this Christmas, the one way we can create the most precious–and eternally enduring–memories.
Priceless moments, if we prioritize our to-do list above our presence, that we could easily forfeit.
Friends, that's much too high a price to pay for any four-course meal, no matter how savory.
What are some things you can release this Christmas, be they seemingly necessary but truly inconsequential tasks, a peace-stealing desire for protection or a drive to please someone who perhaps you can never please-to hold tight to magnify the joy of Christ within you? Share your thoughts with us in the comments below.
If you struggle with a fear of rejection, you might find THIS encouragement helpful. I also encourage you to sign up for my 30 Days of Fighting Fear With Faith Campaign. Then you will receive daily truths designed to increase your godly confidence and freedom. You can sign up HERE.
And make sure to listen to the latest Faith Over Fear episode.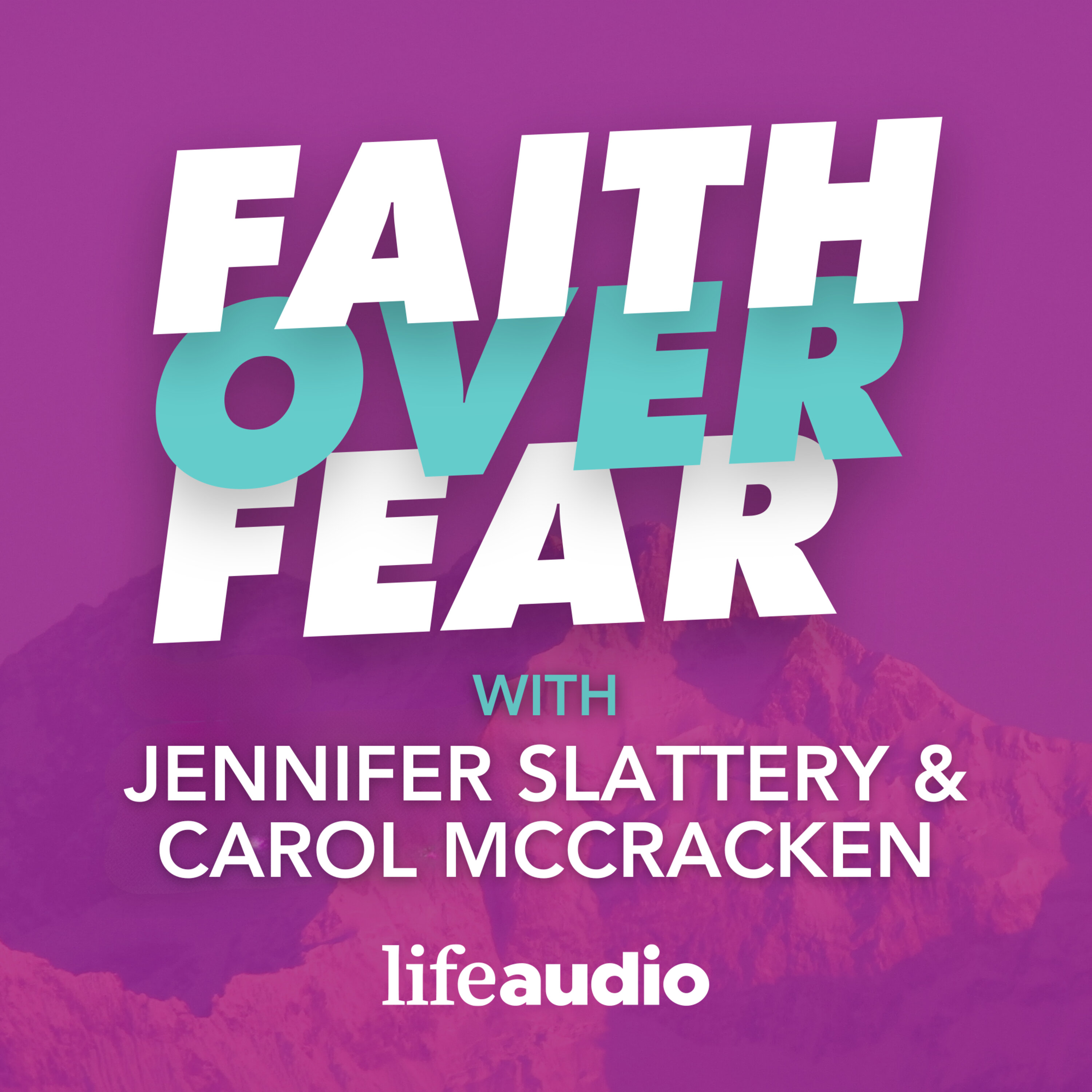 When You Fear You've Blown Your Calling (Genesis 20)
–
Faith Over Fear
Have your sins and failures ever seemed greater than God's grace? Have you ever feared that you've done something to forfeit your calling? In this episode, Carol shares a story about a Christ-follower who, in fear, killed someone. But God's grace reached deep into that prison and revealed a calling greater than a murder conviction.  (Scroll down for discussion/reflective questions.)  Find Carol McCracken: On her website  On Facebook On Instagram Find Jennifer Slattery: On her website Instagram Facebook Find Wholly Loved: On their website Join the private Faith Over Fear Facebook Group  Join the Private Wholly Loved Community Facebook Group Discussion/Reflection Questions: What resonated with you most in this episode? Have you ever feared you did something to forfeit God's call on your life? If so, how?  What did Jason Kent's story reveal regarding God's heart? What did Jason's story reveal regarding God's power? What thoughts or emotions arose when Jennifer said that God uses us for His perfect purposes despite our imperfections? What did God's response to Abraham's sin reveal regarding His heart? What is the significance of God referring to Abraham as a prophet? Why might God have had Abraham pray for Abimelech?  What is one step God might be asking you to take after having listened to this episode? See omnystudio.com/listener for privacy information.
If this Christmas feels hard, you might enjoy Grace Fox's short Bible discussion on Matthew 1:23 titled Good News For When Christmas Feels Anything But Joyous.
And … if you're on Facebook, I invite you to join me for a fun book launch party where I'll be giving away copies of my upcoming release, Her Small Town Refuge.
About the book:
To secure the future she's been wishing for,
she must earn her boss's trust.
Escaping to the Texas Hill Country with her daughter for a vet tech internship is Stephanie Thornton's chance at a safer life. But when medicine goes missing from Caden Stoughton's struggling vet clinic, all evidence points to Stephanie. With the new life she's been searching for hanging in the balance, Stephanie must convince Caden to trust her with his business…and his heart.
Find it HERE.