When my world was coming undone and I wondered the streets of Tacoma, Washington, trying to numb my pain, I felt alone. I thought for sure God had turned His back on me, and honestly, I expected Him to. I certainly wasn't doing anything to draw Him to me. To the contrary. My behavior had given Him every reason to walk away.
When my marriage was struggling and my husband quit his job mere months after moving our family across the country, far from the close-knit community we'd grown so attached to—I felt unseen then as well. Abandoned.
I told God, quite clearly, all about it. Actually, more accurately, I cried out, "Don't you see, Lord?"
I've hurled that accusation at my Father numerous times throughout my life, only to later realize how inaccurate my perception was. In fact, more often than not, it was during those frightening and heart-wrenching moments that God was doing His greatest work. He was lovingly, carefully creating beauty from my rubble.
He saw me in my pain, in my mess, even in my rebellion. In each instance, His compassion moved Him to action and His action brought life.
This has always been Christ's way. When others reject us, He seeks us out. When we're betrayed, He stands beside us as our most loyal and ever-present friend. When life feels chaotic, He remains a firm, immovable rock beneath our feet. And He comes to us when we're overwrought with despair.
Before we can even speak the word, He's there.
Just as He was, some two-thousand years for a poor widow who'd lost her only son. As a parent who adores her daughter, I can't imagine the pain this woman felt as a mom. Agony exacerbated by her utterly destitute state. In her male-dominated society where the majority of women were completely dependent on men, her situation probably felt hopeless. Today's equivalent of losing a child, a job, all resources, and your ability to work in one day.
Did she cry out for God's miraculous intervention, His presence—prior to her son's last breath or after?
Did she feel abandoned in her pain?
Or was her heart too broken for her mind to even form a cohesive thought, let alone for her to utter the words, "My God, please help."
We don't know how she did or didn't respond, did or didn't pray. And that is precisely why this account is so powerful.
Luke 7:11-13 states, "… Jesus went to a town called Nain, and His disciples and a large crowd went along with Him. 12 As He approached the town gate, a dead person was being carried out—the only son of his mother, and she was a widow. And a large crowd from the town was with her. 13 When the Lord saw her, His heart went out to her and He said, 'Don't cry'" (NIV).
Notice, the woman didn't ask for His help. So consumed with her grief, she might not have even known Jesus had come to town. But He knew her and felt deep compassion for her pain. The original Greek literally means to be moved in one's bowels. When was the last time something hit you so strongly, you experienced a gut reaction? As a mom, I've felt that way numerous times—times when my intense emotions for my beloved daughter elicited a physical reaction.
If you're a parent, you can probably relate. Our hearts are intricately tied to our kids, am I right?
Just as, I believe, Christ's heart is inseparably tied to ours.
This story assures us Christ sees and He cares. Our pain does much more than stir His emotions. It moves Him to action as well.
"Don't cry," He said. 14 "Then He went up and touched the bier they were carrying him on, and the bearers stood still. He said, "Young man, I say to you, get up!" 15 The dead man sat up and began to talk, and Jesus gave him back to his mother" (V. 14-15, NIV).
He met the woman in her pain, in her need, and brought life to what she and everyone else deemed irrevocably dead.
This story reminds me that no situation is so bleak that God's light can't break through.
Is there an area of your life that feels beyond hope? How does Jesus's response to this grieving widow from Nain help breathe fresh life into your circumstances today?
Share your thoughts in the comments below, and make sure to connect with me on Facebook and Instagram.
For those following the chronological reading plan:
Before you go, make sure to listen to the latest Faith Over Fear podcast: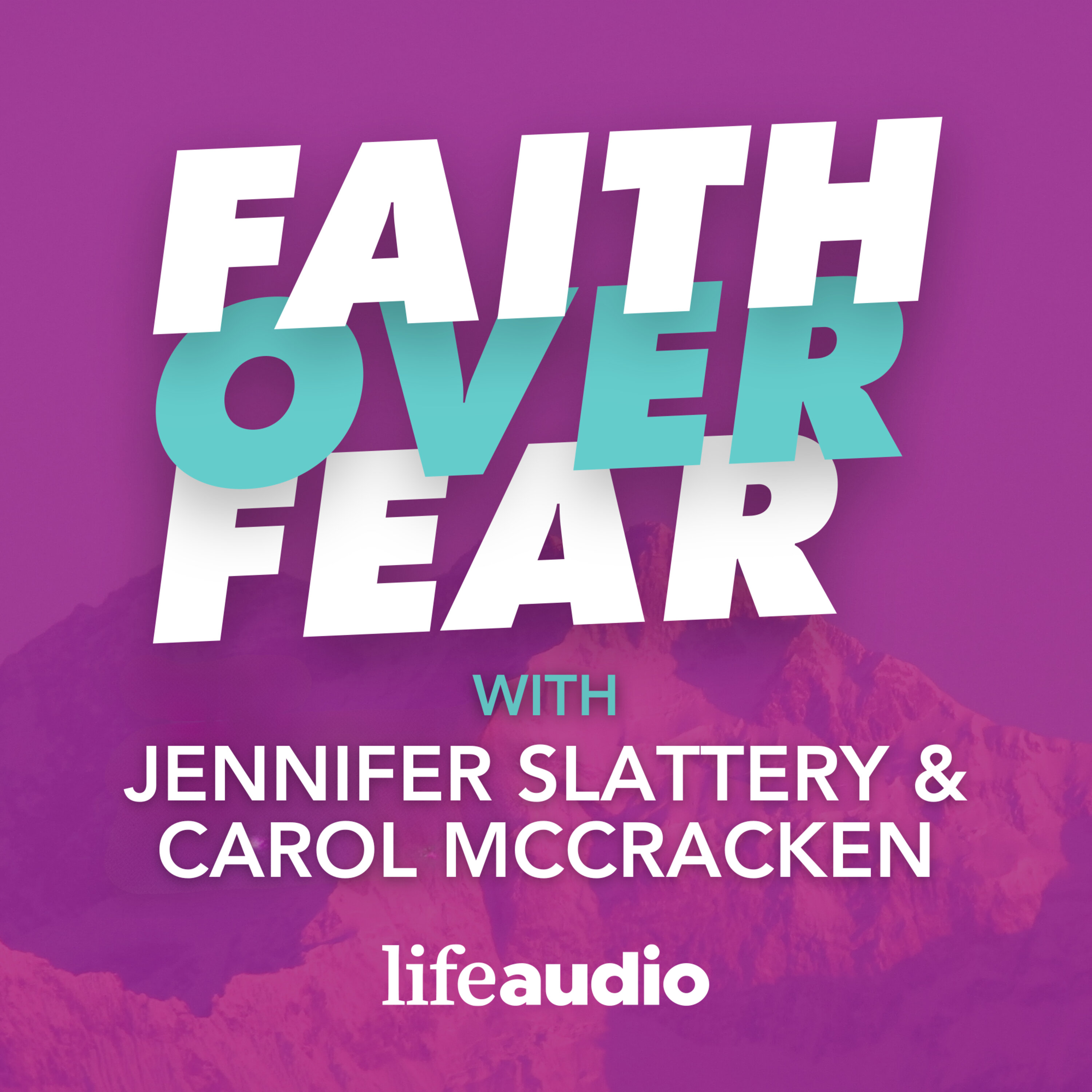 The Cause, Prevalence, and Healing of Soul Shame with Dr. Curt Thompson
–
Faith Over Fear
We all have a God-given and holy desire to be fully known and wholly loved. But while that's what we all want, what we all need, sadly, past wounds can cause us to withdraw and hide. But this only increases our shame. the God who sees us, knows us, and deeply loves us is, at this moment, relentlessly pursuing us and inviting us on a journey of healing. In this episode, Psychiatrist Dr. Curt Thompson, MD, invites us to experience deep healing and connection through Christ's relentless love. (Scroll down for discussion/reflective questions) Resource mentioned: the Soul of Shame: Retelling the Stories We Believe About Ourselves by Dr. Curt Thompson the Being Known Podcast by Dr. Curt Thompson Find Dr. Curt Thompson: On His website Instagram Facebook Amazon Find Jennifer Slattery: On her website Instagram Facebook Amazon Find Wholly Loved: On their website Join the private Faith Over Fear Facebook Group  Join the Private Wholly Loved Community Facebook Group What resonated with you most in this episode? Prior to listening to this episode, how might you have described shame? Why might it be helpful or important to recognize how we experience shame physiologically? How does it feel to know we begin to experience shame as early as fifteen months? How often do your thoughts take on a condemning quality? In what areas of your life do you most feel unseen? What are some ways you allow yourself to be seen by God? What is one action step God might be asking you to take, having listened to this episode? See omnystudio.com/listener for privacy information.